Melitta® Original Coffee Filters (Size 1x4 - 80 Pack)
Best coffee filter quality for over a hundred years.
Our Melitta® Original coffee filters fulfil the highest requirements of enthusiastic filter coffee drinkers. The original coffee filter fits perfectly in numerous, standard coffee machines. Enjoy aromatic coffee moments. Contents: 80 filters
Quantity
Price per item
To

2

£3.24
From

3

£2.39
From

10

£1.50
Product information "Melitta® Original Coffee Filters (Size 1x4 - 80 Pack)"
Contents: 80 filters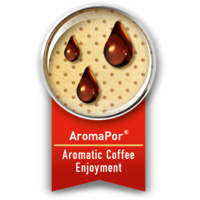 Melitta® Original coffee filters are made of Aromapor® paper.
What is special about this paper is the micro fine pores. They ensure that only the finest aromas and flavours reach your coffee: So that it can always develop its full flavour.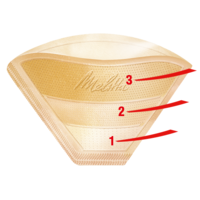 Aromazones
The Aromapores are now divided into 3 Aromazones, each containing different numbers of Aromapores.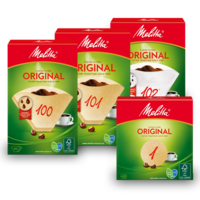 The right size for your coffee machine
Whether your coffee machine is made for 2, 6, 10 or more cups of coffee: Only Melitta® offers you coffee filters in all sizes. Melitta® Original coffee filters are available in sizes 1, 100, 101, 102, 1x2, 1x4, 1x6 and 1x10.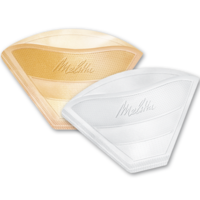 In natural brown and white
Melitta® coffee filters natural brown or white: A difference which you can see but of course cannot taste. The qualities of both coffee filters are the same. Natural brown coffee filters are unbleached, white coffee filters are only bleached with natural oxygen. All our coffee filters are of course compostable.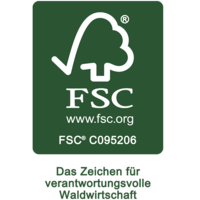 FSC® certification
As an FSC® certified company we produce Melitta® Original coffee filters in compliance with FSC® regulations. The FSC® (Forest Stewardship Council®) is an independent, charitable non-governmental organisation whose aim is to contribute to the improvement of forest management worldwide. Products with the FSC®-Label ensure the use of forests in accordance with the social, economic and ecological needs of current and future generations. With Melitta® coffee filters we make an active contribution to exemplary forest management.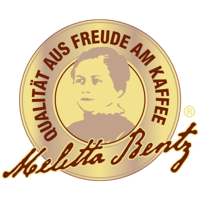 Quality based on delight in coffee
Delight in coffee - this is what we have stood for since Melitta Bentz invented the first coffee filter in 1908, laying the foundation for modern coffee enjoyment. This delight in coffee, then as today, is our impetus to offer you always the best quality and unique coffee enjoyment, with our coffee expertise, ingenuity and love of the product.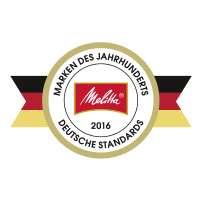 Brand of the century
Melitta makes coffee a pleasure, and that since 1908. Melitta® coffee filters are the market standard. We stand for quality and reliability. And yet Melitta® coffee filters are at the forefront of innovation, one example of this is the new Melitta Gourmet® coffee filter with AromaporenPLUS.
Customer reviews for "Melitta® Original Coffee Filters (Size 1x4 - 80 Pack)"
From:
John Edwards
On:
26 Oct 2020
New design doesn't work properly
We have used your filters for many years, with great satisfaction and we tend to order in bulk in supermarket deliveries.
We recently included 6 packs in a delivery and have just started using them. I noticed the changed '3 Aromazones' design when I opened the packet, and just assumed that it would only improve performance.
However, I am very disappointed to report that it has had quite the opposite effect!
When making 1-3 large cups in our Braun Cafe House machine, using the same filter ground Colombian dark roast coffee (from Costco) as always, the result was disgustingly weak!
I started by blaming an unannounced change in the blend of coffee beans, but realised that the coffee was actually from the same can as before! So I continued by assuming that I had put in either too little coffee or too much milk and tried again. However, after 4 such experiments, I found that I needed to put in TWICE as much coffee to get even a remotely acceptable cup (still without the full flavour I appreciate and am accustomed to).
I imagine that this new filter is designed to work with a full pot of coffee (but cannot comment on that); however, we use the machine to make 1-3 cups at a time and we are simply not going to be able to use these filters at all - it would cost us twice as much in coffee and we would still not be satisfied!
So I have nearly SIX packs of useless filters and now have to buy another brand.
I'm VERY dissatisfied.

Write a review
Evaluations will be activated after verification.