Refurbished to perfect order, backed by a 1 year warranty
A stunning, black exterior to bring style and class to your coffee machine. The Melitta CI Touch® is a fully automated coffee machine, providing 10 delicious coffee specialities with the simple touch of a button. Unlike other coffee machines, you get a whisper-quiet grinder that's capable of grinding two different types of bean with the two-chamber bean container.
This product is currently not available.
Please inform me as soon as the product is available again.
Product information "CI Touch® Fully Automatic Coffee Machine, Silver (Refurbished)"
4 classic coffees prepared at the touch of a button
Enjoy more coffee varieties with \"Manual Bean Select\" options
NEW! descaling process with the PRO AQUA Coffee Filter
Almost silent grinding
Refurbished devices may have optical defects on the packaging and have prepared some cups of coffee. However, the equipment has been checked by our expert service technicians and any required parts have been replaced. In addition, the machines have been thoroughly cleaned. Minor signs of wear may be visible on the devices, but these do not effect functionality. The degree of impairment differs from device to device and can not be specified in advance individually.
Availability: Since we only have a limited quantity of our refurbished devices in stock, our offer applies only while supplies last.
Please note
Refurbished machines have a 1-year warranty.
To find out more about our refurbished machines, the condition and cleanliness and what's included in the box, please click here.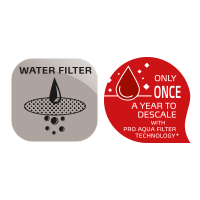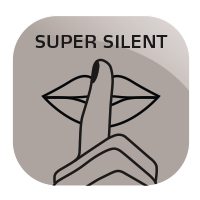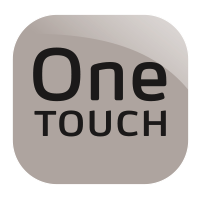 One Touch Feature
Espresso, Café Crème, Cappuccino and Latte macchiato can be selected with just one touch. Warm milk, frothed milk or hot water are also available easily and conveniently with One Touch.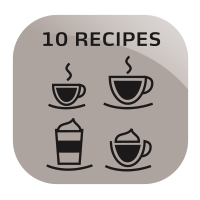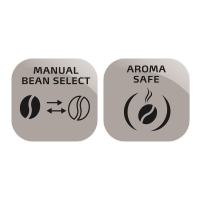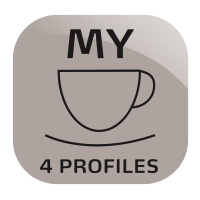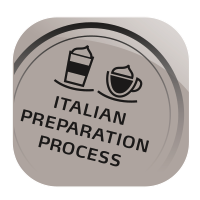 Italian Preparation Process
The Italian preparation process ensures an authentic taste as the ingredients are combined in the right order using an original Italian recipe. This means that, for latte macchiato, the espresso is added after the milk and the milk froth. For cappuccino, it is exactly the opposite.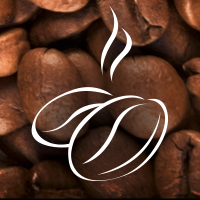 Aroma-Extraction-System
For maximum enjoyment SOLO® & perfect milk uses a pre-brewing feature: The ground coffee is moistened with water before the actual brewing to free the maximum flavour of your coffee. For optimal cleaning the whole brewing unit can simply be removed.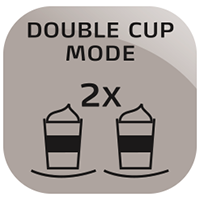 Double Cup Mode
With Double Cup Mode you can make two cups of numerous coffee specialities with or without milk at the same time.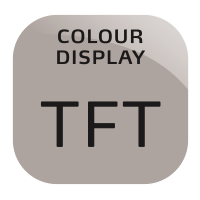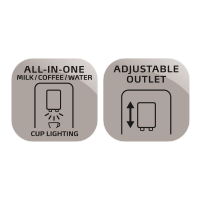 All-in-One outlet
Separate nozzles for coffee, milk and hot water ensure simple preparation of your favourite beverages without you having to move the cup. Additionally, the height of the outlet can be adjusted by up to 140 mm so tall latte macchiato glasses will fit, too.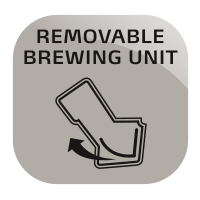 Removable brewing unit
The whole brewing unit can be removed and is easy to clean. This makes the inside of the machine accessible too, so it can also be cleaned without problem.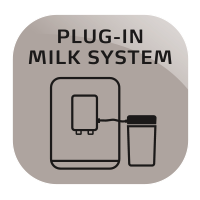 Plug in milk system
The milk system with its external, dishwasher-safe milk container is easy to remove and fits in any fridge. The separate milk unit in the outlet also ensures cleanliness, as it is separate from the coffee system. It too is easy to remove and clean.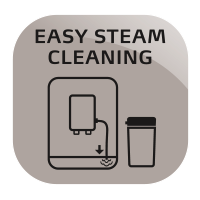 Easy Steam Cleaning
Fast and hygienic – each time you make a drink with milk, your fully automatic machine offers to clean the parts in contact with milk. At the press of a button hot water and steam start cleaning thoroughly.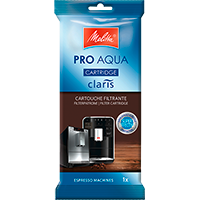 Water filter
To make your coffee taste even better, use a Melitta® Pro Aqua water filter. Another advantage - your fully automatic coffee machine only needs to be descaled once a year**. Why? It's obvious - the filter prevents lime deposits in the water system for as long as possible. **Based on a 120 ml cup 6 cups a day and changing the filter 6 times according to the appliance specifications.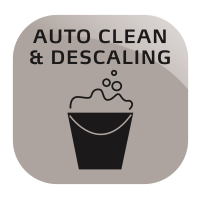 Automatic cleaning and descaling program
Communication is everything. Your fully automatic coffee machine informs you on the display when it needs to be cleaned or descaled.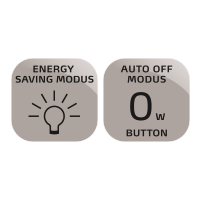 Contemporary energy efficiency
In addition to a programmable energy-saving mode, Melitta® fully automatic coffee machines have a practical Auto-OFF feature. This allows you to determine when your fully automatic coffee machine switches itself off automatically. Of course, you can also disconnect the appliance from the power supply manually using the 0-watt switch.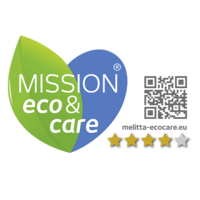 MISSION eco & care
We have developed a label, which helps consumers choose an appliance that guarantees conscious enjoyment. The label uses a value system, which we have developed.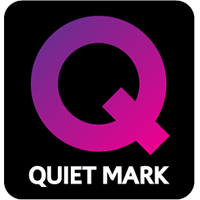 Quiet as a whisper grinder
You want to enjoy making your coffee in peace? This is no problem with the quiet as a whisper grinder, it is not only quiet but also especially quick.
| | |
| --- | --- |
| model number: | F630-101 |
| Quiet as a whisper grinder: | yes |
| Favourite coffee function: | no |
| Companion App: | no |
| Service Menue: | no |
| Operation: | Senson (Touch)-buttons |
| Smart app control: | no |
| Italian Preparation Process for Cappuccino: | yes |
| LED cup lighting: | yes |
| Colour: | Silver |
| Guarantee: | 2 years |
| Weight (g): | 8,7kg |
| Amount (Cups/Day): | 10-15 |
| Energy Saving Mode: | yes |
| Pump Pressure (Bar): | 15 |
| Cable storage compartment: | yes |
| Dimensions (Height x Width x Depth in mm): | 340 x 255 x 470mm |
| Programmable Brewing Temperature (°C): | 87°C/ 90°C / 93°C |
| Programmable Freely Adjustable Water Quantity for Coffee: | 25-220ml |
| Pre-brewing function: | yes |
| Coffee Outlet for 1 or 2 Cups: | yes |
| All-in-one Outlet for 2 Coffee Specialites at the same Time: | yes |
| Height Adjustable Coffee Outlet: | 140mm |
| Grinding Level: | 5 |
| Automatic Ground Coffee Regulation: | yes |
| Volume Bean Container (g): | 270g (2x135g) |
| Number of bean varieties: | Manual Bean Select: 2 |
| Programmable Coffee Strength: | 4 |
| Sound Optimization: | yes |
| Milk foam system: | One-Touch |
| Milk container: | 1l, Kunststoff, schwarz transparent |
| Programme the Product Buttons: | yes |
| Stainless Steel Drip Tray: | yes |
| Automatic Cleaning and Descaling Programme: | yes |
| Removable brewing group: | yes |
| Volume Water Tank (l): | 1.8 |
| Set Water Hardness (4 Hardness Settings): | yes |
| Compatible for Use with Claris Water Filters: | yes |
| Indicator for Water Filter Change: | yes |
| Auto-Off function: | yes |
| 0 Watt Switch: | yes |
| Hot Water: | yes |
| Warm Milk: | yes |
| Automatic Milk Preparation: | yes |
| Cup Warmer: | yes |
| Display: | yes |
| Ground Coffee Chute: | yes |
| MyCoffee Memory: | yes |
| Quantity My Coffee Profiles: | 4 |
| Model Series: | CI |
Customer reviews for "CI Touch® Fully Automatic Coffee Machine, Silver (Refurbished)"
Write a review
Evaluations will be activated after verification.